You've heard of CBD but what about Delta 8, Delta 9 and Delta 10?
You've probably heard of the two most popular cannabinoids in hemp & marijuana, Delta-9 THC (Delta-9 tetrahydrocannabinol) and CBD (cannabidiol), but after considerable research, this plant was found to contain a lot of other beneficial cannabinoids.
If you've never heard of Delta-8 or wondered what it is, it's usually mentioned in the same sentence with CBD, the hottest-selling legal cannabinoid available since the legalization of Hemp with the Hemp Act of 2018 (also known as the Agriculture Improvement Act of 2018 aka "The Hemp Act"). There are more than 100 cannabinoids found in the hemp and marijuana plants, including CBD, CBG, Delta-9 THC, Delta-8 THC, Delta 10 and many others that are not found there at significant levels. All these cannabinoids can be found in both hemp & Marijuana but in varying strengths.
The difference between CBD (Cannabidiol) and THC (Tetrahydrocannabinol) is that CBD doesn't carry the intoxicating side effects that THC does. CBD can be used for many reasons, but it will not give the user the euphoric feeling or "high" (unless it also contains some THC in the formula).
| | |
| --- | --- |
| CBD Is NOT intoxicatingBinds to your Cannabinoid ReceptorsComes in Indica, Sativa, and Hybrid Strains | Delta-8 THC Is intoxicatingBinds to your Cannabinoid ReceptorsComes in Indica, Sativa, and Hybrid strainsDelta-8 THC can increase your appetite |
Special licenses or cards are not required to purchase CBD or Delta-8 THC (not to be confused with the regular THC aka "Delta-9 THC" that we'll talk about below). (Delta-8 THC and Delta 9 THC will hereafter be referred to as Delta-8 & Delta-9). Currently, Delta-8 from Hemp is legal, according to Maryland state law, which was one of the first states to follow suit and implement the same regulations that the Federal government had put in place.
The Delta-8 that's sold "over the counter" in many states including Maryland is regulated however and must have less than .03% THC (aka Delta-9). After the legalization of hemp in 2018, legislators started reconsidering the sale of Delta-8, which is still legal in many states due to what some call an "oversight" in the 2018 Federal Farm Bill.
Just like the Federal Law, Maryland has legalized all derivatives, cannabinoids, and isomers of hemp including all tetrahydrocannabinols other than Delta 9 THC.
Delta-9 is the intoxicating part of Marijuana that when ingested or smoked produces the well-known "high". Delta-8 is similar to Delta-9, but the effect of Delta-8 is milder. Delta-8 is about 50% to 66% as potent as Delta-9 and Delta-10 is even less potent (about 20% to 30% less than Delta-8).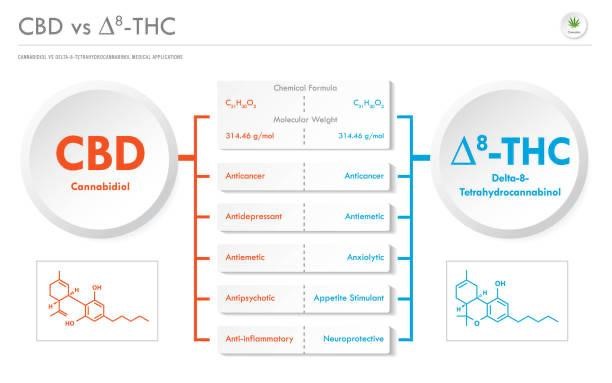 According to Roger Brown, president and CEO of ACS Laboratory, a lab that tests hemp-derived products from 48 states, "Delta-8 was very popular and had really taken off, and now Delta-10 has taken off as well, and we're seeing it in a significant amount of products that are being tested."
Since 2018, Maryland has allowed farmers to participate in the Maryland Hemp Farming Program for research and commercial production. To purchase Delta-8 in Maryland you must be 21 or older.
"Hemp-derived THC" means that the THC is produced entirely from Hemp. Under the Hemp Act, which explains that "Hemp" is any cannabis plant containing less than 0.3% Delta 9-THC, hemp is legal for all purposes under Federal Law. Marijuana or any cannabis plant containing more than 0.3% Delta 9-THC is restricted from being used in any other "Hemp-Derived THC" product.
Delta 8 is an intoxicating substance that is known to be less potent but chemically similar to Delta 9. "It is sometimes called Delta 9 THC's nicer, younger sibling", says Daniel Kruger, Ph.D., researcher at the University of Michigan. "Delta 8 THC may provide a lot of the benefits of Delta 9 THC – for example, relaxation and euphoria without so many of the adverse side effects," he adds.
When Delta 8 THC and CBD are combined, the user receives all the benefits of both cannabinoids and little to no "high." This is because the CBD compound will interact with the same receptors as the Delta-8 THC compound, negating the effects of the Delta-8 THC. If you want to experience the benefits of Delta-8 THC without the intoxicating effects on your body, combine it with CBD to reduce the effects & intoxicating properties.
In conclusion, Delta-8 may very well be the product that consumers would request if they knew what it was and how effective it is. Users describe the feelings you get from using Delta 8 as stimulating, saying it gives them a sense of well-being and alertness that's typically elusive when using full-strength marijuana. Users have also reported an absence of paranoia, which is one of the reasons some people hesitate to try Delta-9. This makes using Delta-8 far more approachable for those with a lower tolerance than taking a gamble on the potency of full-strength marijuana.
Delta 8 and Delta 10 THC are both growing in popularity, because they're a good introduction for new users and because they're more widely available. This is because the Delta 8 and Delta 10 THC available on the market in most areas is derived from hemp, which is legal to farm across the U.S. You can find Delta 10 or Delta 8 vapes, distillates, gummies, and even pre-rolled flowers.
With that said, the DEA is currently verifying the legal status of both Delta 8 and Delta 10. This has led to the restriction or prohibition of these cannabinoids in 18 U.S. states including Alaska, Arizona, Arkansas, California, Colorado, Connecticut, Delaware. Kentucky, Idaho, Iowa, Mississippi, Montana, New York, Nevada, Rhode Island, Utah, Vermont Washington, Michigan, and North Dakota.
How can you determine which hemp-derived cannabinoid is right for you?
Determining which cannabinoid is right for you depends on what type of person you are and what effect you hope to achieve.
CBD: If you want the benefits of managing, anxiety, sleep & depression without the intoxicating effects (getting "high"), CBD could be a good product for you.
DELTA-8 THC: Delta 8 THC could be good for you if you want a mildly intoxicating effect (sometimes likened to a glass of wine), which is milder than you'd feel after taking Delta 9 (from marijuana). Just like CBD, it does have health benefits, however, and can be useful for depression, as a sleep aid, and to help your appetite without making you nauseous. It is beneficial for nausea which can be a debilitating and incapacitating side effect for many cancer patients.
DELTA-9 THC: Delta 9 is better for those who don't feel particularly affected by the intoxicating effects of THC (Delta-9 has an increased concentration of benefits, especially for cancer patients for issues like pain relief, nausea control, and appetite.)
As mentioned above there are hundreds of other cannabinoids such as CBN, CBG, and CBC each of which has special effects on the human body. To find out which cannabinoid is right for you visit CBD Effects located in Towson, MD. Their certified salespeople are trained to help you decide how to get the most from their full range of products and brands including Delta 8, Delta 9 & Delta 10 hemp-derived flower, gummies, vape cartridges, disposable vapes, edibles, and tinctures (to name just a few) in a variety of sizes, strengths, and strains. CBD Effects is unique because you can pick from their large variety of brands and products unlike most of your average "CBD shops". You can purchase at their store location at 8635 Loch Raven Blvd, Towson, MD 21286 or by calling 816-422-3339 or online at CBDefx.com.