CBD Pumpkin Halloween Cheesecake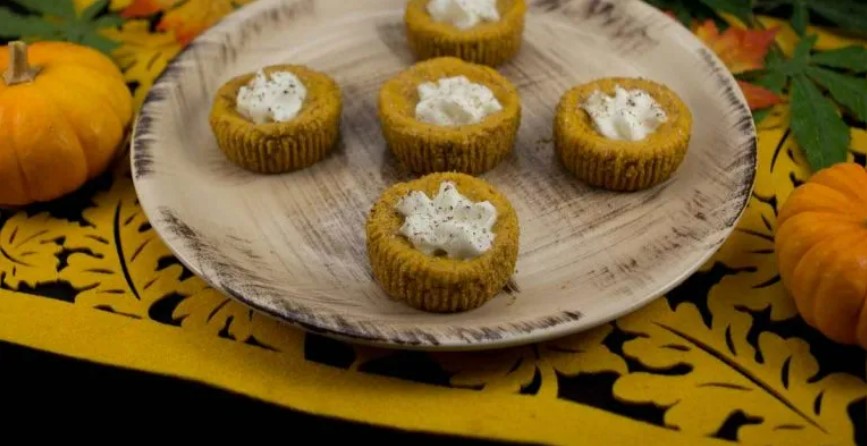 CBD Pumpkin Halloween Cheesecake
These delicious CBD Mini Pumpkin Cheesecakes are definitely a must for the harvest season.
Ingredients:
2 cupcake pans
15 cupcake liners or cups
15 ginger or molasses cookies (look for small, circular ones)
8 oz. softened cream cheese
15 oz. can of pumpkin
1 cup of sugar
¼ teaspoon salt
1 egg
2 egg yolks, lightly beaten
1 cup half and half
Approx. 300mg of your favorite CBD Oil or Tincture
½ teaspoon cinnamon
½ teaspoon ginger
⅛ teaspoon freshly grated nutmeg
1 teaspoon vanilla extract (optional)
Whipped cream
Instructions:
Preheat the oven to 325˚F and line pans with cupcake liners. Place one cookie at the bottom of each cup.
Beat the cream cheese in a large bowl until smooth. Mix in the pumpkin and thoroughly combine them. Add the sugar and salt.
Add the eggs, yolks, half and half, and CBD oil. Mix well and add the vanilla and spices.
Fill in the cupcake liners with the pumpkin mixture. Fill all the way to the top.
Bake for 25 to 30 minutes, or until centers are set. Remove from the oven and allow to cool at room temperature. Refrigerate for 2 hours or more to let it harden and set.
Add in whipped cream, serve, and enjoy!
Note: be sure and use CBD Oil for this recipe and select the strength of the product based on your experience with CBD – if you've never taken it before we recommend you start with a lower milligram unflavored CBD Oil and if you have tried CBD before and know how it affects you, you can graduate up to a higher strength CBD Oil. We recommend the RxRemedies Full Spectrum CBD Sublingual Tinctures in the Plain Flavor – available here. OK Stay tuned for more Halloween treats! Meanwhile, visit CBDEfx.com and save $25 when you spend $50 or more when you use this code online: SAVE$25