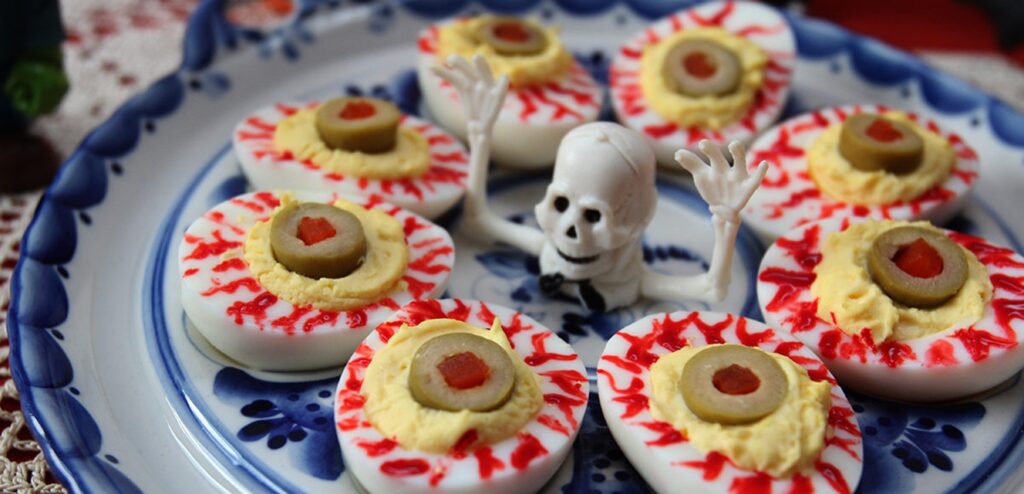 IT'S SPOOKY CBD WEEK! While you wait for those cute little trick-or-treaters, why don't you work some CBD Halloween recipes into your evening celebration for a spooky-yet-chill night of frights and delights?
Bloodshot Eyes Deviled Eggs
WOW….these are really creepy but yummy!
Ingredients:
6 large eggs
1/4 cup mayonnaise
1 1/2 tablespoons CBD oil
1/2 teaspoon apple cider vinegar
1 1/2 teaspoons Dijon mustard
1/8 teaspoon salt
1/2 teaspoon pepper
12 black or green olive slices
12 capers
Red food coloring
Instructions:
Put the eggs in a saucepan and pour in cold water. They should be covered in 2 inches or so of water. Bring the water to a boil. Switch off the stove and let the eggs remain in the water for 20 minutes. Take the eggs out and put them immediately into a bowl of ice water – this helps them to peel so easily!!
Peel the eggs and slice them in half lengthwise. Remove the yolks and mash them with mayonnaise, mustard, vinegar, CBD oil, salt, and pepper. Fill the hollows of the egg whites with the yolk mixture. In the center of each "eyeball," place an olive slice. Put capers in the center of the olive slices.
Use red food coloring to paint lines on the whites that will represent bloodshot veins. Note: be sure and use a CBD Oil for this recipe and select the strength of the product based on your experience with CBD – if you've never taken it before we recommend you start with a lower milligram unflavored CBD Oil and if you have tried CBD before and know how it affects you, you can graduate up to a higher strength CBD Oil. We recommend the RxRemedies Full Spectrum CBD Sublingual Tinctures in the Plain Flavor: https://cbdefx.com/product/rxremedies-full-spectrum-cbd-sublingual-tinctures-plain/
OK Stay tuned for more Halloween treats! Meanwhile, visit CBDEfx.com and save $25 when you spend $50 or more when you use this code online: SAVE$25